Management Team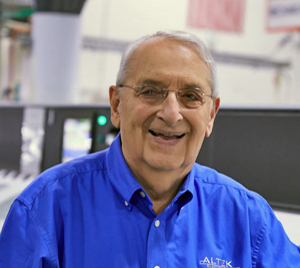 Stephen Altschuler, Chairman & Founder
In addition to being the founder of Altek Company, a manufacturer of can testing equipment for the food and beverage industry under the name of Tech® Products, Steve is also the majority owner of Altek Electronics. Stephen graduated from UConn with a Bachelor of Science degree in Electrical Engineering, and earned a Master of Science degree in Electrical Engineering from Yale University. Earlier in his career, Mr. Altschuler was Vice President of Computer Dynamics (1963-72) and Manager of Quality Assurance for Adage Inc. (1959-63). He served on the Board of Trustees for the University of Connecticut from 1986-93 and is the former Director and Vice President of the Northwestern Connecticut Chamber of Commerce. In 1972 Steve established Altek, and for 44 years worked to create and maintain a business culture that emphasizes customer satisfaction. Stephen has worked successfully with his team to: create a loyal customer base; maintain a profitable business operation that pays its bills on time; and earn a solid reputation in the industry. In addition to his role as Chairman, Steve leads Altek's Engineering team and manages one of Altek's largest customers.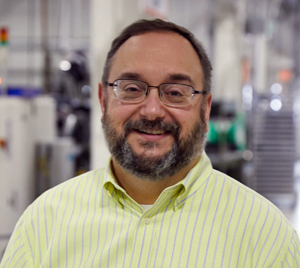 David Altschuler, Chief Executive Officer
David graduated with a B.A. from The George Washington University where he interned at National Public Radio. After working for Public Television for several years, first in the home office in Alexandria, VA, then for Channels 10&36 in Milwaukee, David worked in the computer software sales field for a short time before joining Altek Company in 1992. While working at Altek, David supplemented his business knowledge in the MBA program at the University of Hartford. David has held several key positions including leading administration, IT, materials and customer service. In 2003 David was promoted to Vice President of Finance and Administration. David played a key role in facilitating the company's move to our current location, and has the sales responsibility for one of Altek's largest customers.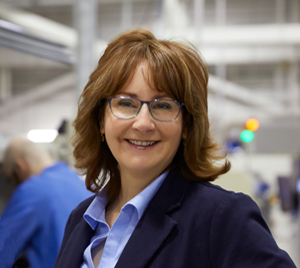 Sabrina Beck, VP of Business Development
Sabrina graduated from Quinnipiac University with a B.S. in Business Management, and began her career in the financial services industry. During the twelve years she worked for corporate America, Sabrina gained experience in sales and marketing, and earned two prestigious professional designations. She joined Altek in 1998, and immediately began the process of learning the family business. Sabrina earned the IPC-610 and 620 certifications, a Six Sigma Green Belt, participated in CFM training, and has taken business classes in UConn's MBA program. Sabrina manages estimating, document control, compliance and business development. Sabrina is on the Board of Directors for the Warner Theatre, the Northwest Regional Workforce Investment Board, and the Smaller Manufacturers Association. She serves as Treasurer of the Surface Mount Technology Association Nutmeg Chapter, and is active in the New Haven Manufacturers Association, APICS, Women in Manufacturing, IEEE, the Society of Women Engineers and has served as a board member for the Northwest Connecticut Chamber of Commerce.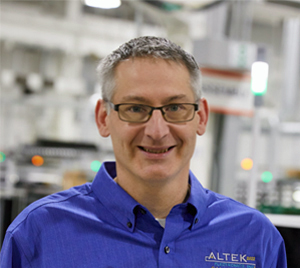 Kevin Bair, Director of Finance & Administration
Kevin Bair is Altek's Director of Finance and Administration. With extensive experience in electronics manufacturing and finance, Kevin comes to Altek from Winchester Electronics where his managerial role focused on finance, accounting and production support for two facilities. Prior to that Kevin worked in managerial roles for Westinghouse Electronics and Teradyne, Inc. Kevin began his career as a Mechanical Design Engineer for Kimball Electronics Group and also worked as a Manufacturing Engineer for Johnson Electric. Kevin earned his Bachelor of Science Degree in Mechanical Engineering from the Rose-Hulman Institute of Technology and an MBA in Finance from Babson College. Additionally he received training in LEAN and Toyota's Systematic Leadership principals. Kevin is currently serving on the Economic Development Commission for the Town of Burlington, CT. In his new role at Altek, Kevin will be responsible for the management of all finance, human resources and information technology activities.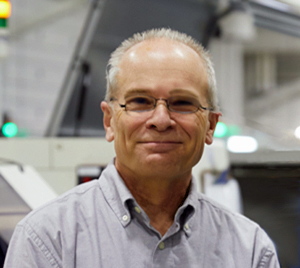 Tim Suydam, Director of Operations
We're delighted to announce that Tim Suydam has been appointed as Altek's Director of Operations effective August 25th 2020. Tim joined Altek as the Director of Continuous Improvement in June of 2018. In that role Tim became involved in all facets of the business, from streamlining customer service functions to increasing productivity and reducing cost in manufacturing, to improving safety in our facility. Prior to Altek, Tim was a Senior Business System Architect at Liberty Mutual Insurance Company where he provided leadership and mentoring to support the deployment of the Liberty Management System.  Prior experience includes Vice President of Business Excellence at Dyno Nobel Inc, with responsibility for implementation of the Lean Management System at 15 plants in four countries, and VP of Manufacturing with a multi-plant/country span of responsibility, also at Dyno Nobel.  Tim holds a lifetime Certification in Production and Inventory Management (CPIM) and holds a lifetime Purchasing Management Certification (C.P.M.), and is a long tenured member of the Shingo Prize Board of Examiners.