Wire & Cable Harness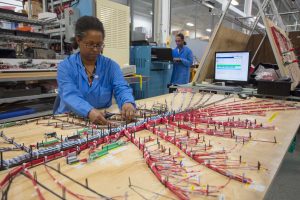 Altek Electronics is a one-stop contract manufacturer providing turnkey solutions for our customers. We have the expertise to provide cable harness assembly and wiring harness assembly services. Whether you need prototyping, short run or continuous delivery, we can meet your just-in-time demands.
Our expertise building large cable harnesses allows us to meet the needs of customers who manufacture large, complex machines. We have the flexibility to manufacture custom harness assemblies in conjunction with production, prototype PCB, and mechanical assembly. To ensure we satisfy our customers, we offer a full range of services including continuity testing.
Utilizing several forms of automation, such as automatic wire cutting and wire stripping, we can custom manufacture your harness to your exact specifications while keeping prices competitive.
Our large selection of crimp tools allows us to ensure your electrical cable assembly has exactly the right crimp every time.
Our experienced IPC-620 certified personnel are committed to an extremely high standard of quality and can construct simple cable assemblies or the most complex multi-connector, multi wire harnesses.