Wave Soldering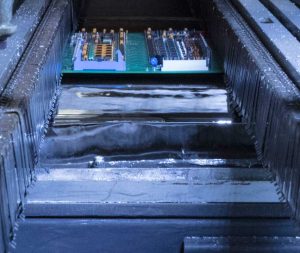 Wave Soldering capabilities gives Altek options to produce the highest quality PCB Assembly. Meeting your needs with automation to save time and cost.
Catch a Wave
Wave Soldering
Wave Soldering is a bulk soldering process that enables us to solder the back side of the board for circuit board assemblies containing thru-hole parts. At Altek we have four wave soldering lines with a size ranging from 50mm x 50mm up to 400mm x 510mm.
High Quality Standards
Temperature Control
Ensuring proper temperature control of the molten solder is essential for this process. The right temperature and stable solder wave height eliminates cracking, loss of conductivity or mechanical stress on the board. Custom programming for each assembly ensures consistency between production runs and reorders.
One Size Does Not Fit All
Flexibility in the Soldering Process
In PCB Assembly (printed circuit board), Reflow and Selective Soldering can be used in conjunction with Wave Soldering. Our Process Engineers will select the optimal process to give you the highest quality assemblies.
While many assemblies must be RoHS compliant using only "Lead Free" solder, we also have lines set up for customers who require "Tin-Lead" solder for their products.
The capability to provide Wave, Reflow, Selective, and traditional hand soldering gives us many options to select the best process or processes for your PCB Assembly – Prototype or Production run.