BGA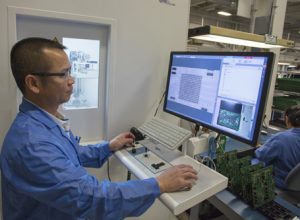 Altek Electronics has a full set of proven processes for the surface mount assembly of your prototype PCB and production runs. We can place advanced components and have the ability to handle BGA assembly including BGA X-ray. Our capabilities and knowledge to place, solder and inspect advanced SMD's include:
BGA's (BGA placement up to 55mm² 1.0mm pitch)
µBGA (0.5mm pitch)
Ultrafine pitch components (0.4mm pitch)
QFN/MLP
LGA
CSP
01005 chip components
Odd Form components
Large Connectors (up to 72mm diag.)
Rigid/Flex and Flex assemblies
Through Hole (Pin in Paste)
LED's
We fully review your PCB assembly to custom tailor a process best suited for your product and specifications. Whether prototyping circuit boards or setting up for production runs, "white glove" care is given to stencil design, placement technique and thermal profiling for all components on your PCB. Throughout the process we monitor the quality of your assembly with such tools as 2-½D paste inspection, BGA X-ray inspection, BGA microscope inspection (to monitor BGA soldering quality) and AOI inspection.