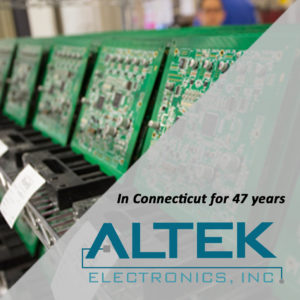 3/2/2020
Dear Valued Customer,
Ref:  COVID-19 coronavirus
The purpose of this letter is to inform you of the likely negative impact on lead times of electronic components due to the coronavirus, and to outline the steps Altek Electronics is taking to mitigate delivery delays to our customers.
Lead Times of Electronic Components
While there is uncertainty as to exactly how much of an impact the coronavirus will have on lead times of electronic components, a number of reliable industry sources warn there will be a delay on certain components of several weeks or months.  The information is in flux and we're working with suppliers to stay current.  All known shortages have been communicated with customers, or mitigated by using alternate sources or approved alternate parts.    We will continue to monitor the situation and provide updates as new information becomes available.
Mitigation of Delivery Delays:
Safety Stock: Altek will be building up a safety-stock of finished goods inventory for orders that we ship on a regular basis.  In return, we ask that customers not push out any scheduled delivery within a 4-week window.   It will take several weeks to establish our buffer stock.  We're hopeful this will mitigate any incidence of absenteeism due to illness.
Supply Chain: Altek will work closely with our suppliers and manufacturers to confirm that components orders are shipping on-time, and we will notify customers if we learn of any delays.  If supplies of certain components become constrained, we may need to request approval to use alternate parts.
Planning: We encourage customers to review forecasts and consider placing orders at least 3-6 months in advance of the next scheduled order date.
We value our business partnership with you and appreciate the trust you place in us to mitigate impacts to schedules during this coronavirus epidemic.
Regards,
Sabrina Beck, VP/Co-Owner